Masos From The Peruvian Amazon
Item #520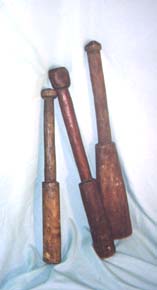 (The item for sale may look somewhat different than the masos in the photograph)
I try to find masos and batans as a set. But while traveling through the Peruvian Amazon, I became intrigued with the wood used in the club-like masos.
It's an attractive wood with a good heft and very hard, making the maso an interesting item for a collection. These masos are about 18-20 inches long.
Although the photograph shows a group, I can to sell them individually.
Price Information How to Order Contact